2024
Millage and Service Details
Efficient, reliable connections between our communities increases equity and economic opportunity for all residents.
In August 2022, the voters of Ann Arbor, Ypsilanti and Ypsilanti Township approved TheRide's millage request to expand and improve transit service with the majority vote of 61%. Though approved in 2022, the new 5-year 2.38 mil property tax and services will not go into effect until 2024. These improvements will include several key enhancements to our public transit services. Customer service agents at the Ypsilanti Transit Center will begin Fall of 2023. The remaining improvements will begin in 2024.
TheRide will improve transit services to advance the community's needs for social, environmental and economic sustainability. These will include several key improvements to our public transit services:
---
Maintain Current Services – Ongoing
Continue providing essential transportation service in the greater Ann Arbor–Ypsilanti Area.
Ann Arbor-Ypsilanti Express Route – 2024
Limited-stop express route along Washtenaw Ave. decreasing travel time by 30%.
Expand Overnight Service – 2024
Add overnight and holiday service and expand NightRide to all of City of Ypsilanti, all of Ypsilanti Twp north of Textile Road.
Increased Frequency of Service – 2024
More buses on the weekends, increasing all 60-minute service to every 30-minutes.
Customer Service Agents (YTC) – 2023
In-person agents and office improvements at Ypsilanti Transit Center allowing ticket sales and in-person customer service.
Longer Hours of Service – 2024
Earlier Saturday service and consistently longer hours of operation on both weekday and weekend evenings.
Capital Improvements – Ongoing
Capital fund for future projects such as terminals, BRT, zero-emission buses, garage, etc.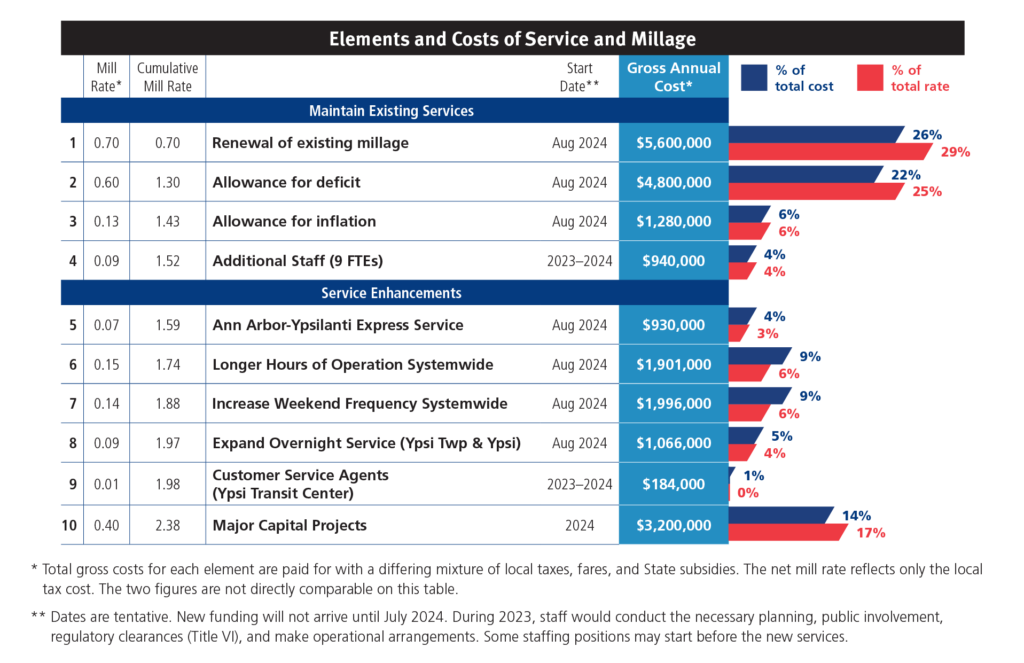 Translated Information
Translated information available upon request.
Información traducida disponible, a solicitud.
可根据要求提供翻译信息。
요청 시 번역된 정보를 제공합니다.